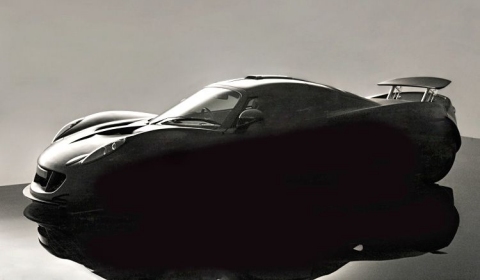 It has been a waiting game for us all. The Hennessey Venom GT hypercar was on its way to its official debut at the Geneva Motor Show, but the American car builder missed out on this opportunity due to a lack of floor space.
Today Hennessey unveiled the first teaser shot of the completed car a few weeks before its release at the 2010 New York carshow.
The Venom GT is their first production car next to the company's tuning programs for production cars. Based on a Lotus Elise, the frame is two feet longer and a foot wider so that it can hold the twin-turbo LS9 V8 engine.
The boosted Corvette engine has two turbos and is available in three setups; 725bhp, 1000bhp and 1200bhp. All the power is converted to the rear wheels via a six-speed manual transmission. A top speed of 420km/h (262mph) is mentioned on the spec sheet and a sprint time from zero to 100km/h (62mph) is done in an amazing 2.2 seconds.
More information will be unveiled during the New York auto show starting at the end of this month. So stay tuned for more!