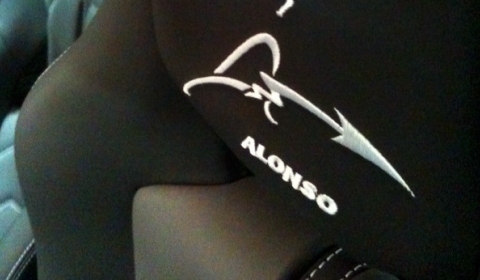 Ferrari F1 driver Fernando Alonso got his personal F458 Italia. The prancing horse has a Bianco Fuji livery and black interior. The pictures were made by a Flickr member and posted onto the website of Teamspeed.
If you look closely you will notice the name of the F1 driver embroided into the back of both seats. The postioning of the driver's seat is rather interesting. We all know that Fernando isn't that big so they moved the seat a 'bit' forward.
The new Ferrari 458 Italia is the fastest 'prancing horse' ever built with a top speed of 325km/h (203mph) and a 0-100km/h sprint of less than 3.5 seconds. The 4.5-litre V8 engine with double clutch and seven speed gearbox offers a 570bhp at 9,000rpm and 540Nm at 6000rpm.