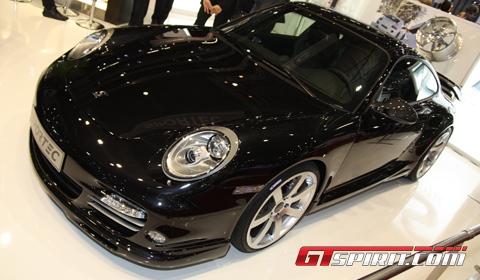 Swiss tuner Sportec has refreshed its program for the current Porsche 997 Turbo facelift. The model received a completely new six-cylinder, 3.8 liter boxer engine delivering 500hp and the tuner developed a new package for this powerplant.
The SP580 program has two ECU upgrades available. Performance stage 1 increases the power of the 3.8 liter boxer engine to 550hp (404kw) and maximum torque of 750Nm. It also includes a sport air filter. The second stage brings the power to 580hp (426kW) and the torque at 800Nm. The second stage includes additionally a performance exhaust system with high-flow catalytic converters, sound throttles including controller and two 70mm double endpipes. Top speed is 323km/h and 0-100km/h is done in 3.1 seconds for both packages.
Sportec has a lowering kit available, bringing the vehicle up to 20mm closer to the road. You can fit the kit on cars equipped with Porsche Active Suspension Management (PSAM).
The exterior addings are available, such as a front spoiler, rear wing, side skirts, mirror covers and air intakes. The front spoiler, rear wing, mirror covers and air intakes are also available in carbon fiber. As an extra add-on you can also get a rear lid "GT" wing, in carbon fiber if requested.
There is a large variety of wheels and spacer kits available. The wheels range from 8.5Jx19 inch up to 12Jx20 inch and are available in numerous colors. Wheel sets are on the options list too. They include Michelin Pilot Sport or Michelin Pilot Sport Cup tyres.
Inside the vehicle you can get some minor refinements like entrance borders with individual signature, a gear knob, a handbrake lever and a full replacement kit for all panels. All these parts are made out of carbon fiber. You can also get a floor mat set with Sportec logo, aluminium foot rest, aluminium pedal set and safety cell.