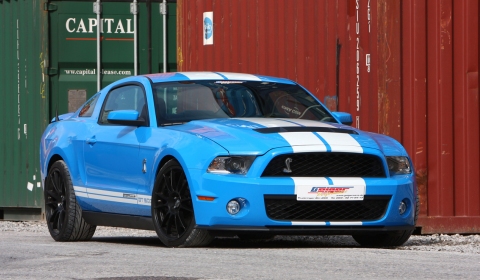 GeigerCars latest product is a tuned Mustang GT. They donated the 3.3 litre compressor to the 5.4 litre aluminium engine block which with its 1.6 bar supercharging pressure provides an extra boost. Additional changes are larger throttle valves, a modified injection system, a 100mm air flow meter and newly machined cylinder heads.
The muscle car now produces 810PS at 6,700rpm and a maximum engine torque of 945Nm at approximately 4,300rpm. The transmission had to be reinforced and the 5th and 6th gears were shortened. A three disc carbon clutch produces smoother power transmission. A special manifold with racing catalytic converters and customised sport exhaust guarantee give the vehicle a new sound. Top speed of the vehicle is 345km/h.
GeigerCars fitted the Shelby with a special racing chassis as well as a Panhard rod. Four classic OZ alloy wheels in 8.5 and 10×20 inch are outfitted with Michelin high performance tyres in 245/35ZR20 and 285/30ZR20. Braking is ensured via six-piston high performance brakes on the front axle with 380mme large drilled or optionally slotted brake discs.