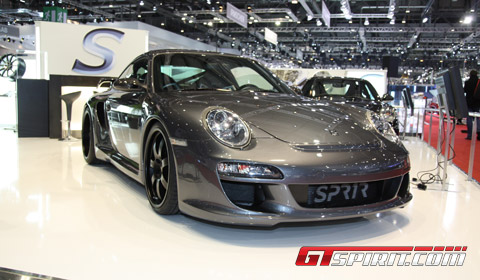 We already showed the first photos of the new Sportec SPR1 R a few days ago, but just photos don't do justice to the Sportec developments under the skin of this Porsche that make this Sportec SPR1 R the most powerful Porsche on display in Geneva and the 5th most powerful car overall after two Bugatti Veyron Grand Sport's and the Koenigsegg Agera and CCXR Platinuss Edition.
Technology is key at Sportec and their technical achievements for Porsche's are unmatched, SPR1 R is the latest example of their years of experience. With 858 hp total output from the 3.6 litre flat-six biturbo engine, the SPR1 R is as powerful as the SPR1 M that Sportec brought to Geneva last year. But as the 'R' suggests the SPR1 R is geared towards track use and the setup has been further enhanced for track use. Improvements to the motor electronics results in a huge maximum torque of 880Nm by just 4,800revs.
Performance wise the Sportec SPR1 R delivers as you would expect from the Swiss Porsche specialist and 858hp: acceleration from 0-100km/h in 3.0 seconds, 0-200km/h in 8.3 seconds and 0-300km/h in an unbelievable 18 seconds. The top speed exceeds 380km/h. The race DNA further shows by means of a high performance clutch, limited slip differential and adjustable traction and launch control.
New feature from Sportec is an STS touchscreen that can display a digital speedometer, vital engine functions and provides access to the adjustable traction and launch control. Interesting feature for track aficionados is the data logger option that can register diverse telemetric data and lap times.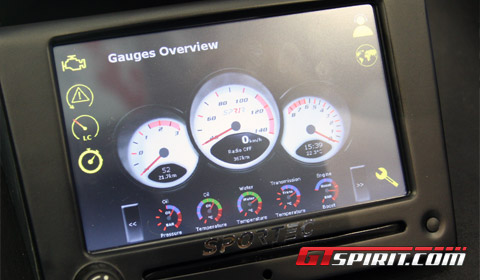 Sportec sticks to a strict 'less is more' philosophy when it comes to the exterior of their vehicles. The result is an understated design in which form primarily follows function.