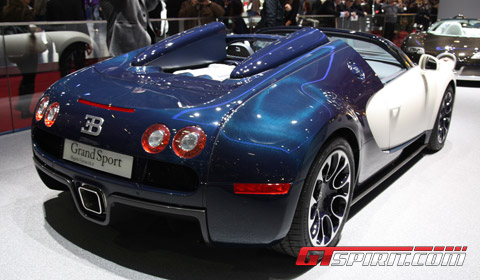 Bugatti unveiled two new special editions of the roofless hypercar at this year's Geneva Motor Show; Grey Carbon and Blue Carbon.
The upper part of the Veyron Grand Sport Grey Carbon (below) plus the doors and the side panels are constructed from dark grey carbon fiber, while the bottom part of the car is finished in polished aluminum. The lowr air intake griless are polished. The rims are like the ones on the Pur Sang Edition. The EB logos and screws used on the vehicle are mare of sparkling aluminum.
The Blue Carbon Special Edition (above) features a bonnet, monocoque and rear section made from Royal Dark Blue and Arctic White tinted carbon fiber which is also found on the air intakes and all grilles.
On in the inside both vehicles have a full leather interior. The dashboard, center console, seats and interior trim panels all got a suiting color in the Grey Carbon version. The Blue Carbon version got a matching interior with a two-tone theme.
Both vehicles are already sold to a future owner. The Bugatti Veyron Grand Sport Grey Carbon price was € 1.65 million, the Blue Carbon went for € 1.75 million.