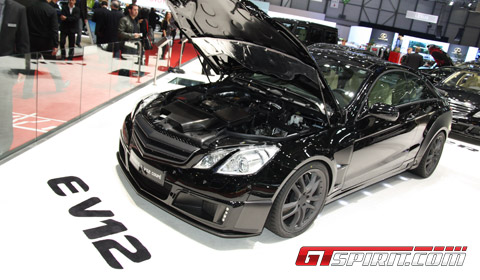 At Geneva Brabus has unveiled the E V12 Coupé based on the E-Class Coupé. The Germans have added the Mercedes twelve-cylinder twin-turbo engine from the '600′ range to the standaard setup. Brabus have modified the design extensively to provide us with a larger displacement unit, now 6.3 liters, pushing power to a staggering 788bhp and 1,420Nm (1,047lb-ft).
Next to the engine they installed a different reinforced gearbox, a limited-slip differential as well as adding driving stability program with an override button.
0–100km/h (62mph) is dealt with in just 3.7 seconds, 200km/h (124mph) in 9.9 seconds and 300km/h (186mph) after a just 23.9 seconds. The E V12 is capable of reaching 370km/h (230mph) unlimited, however, Brabus have taken the precaution of limiting the car to just 350km/h (217mph).
Our full story about the brand new Brabus E V12 Coupé can be found here.