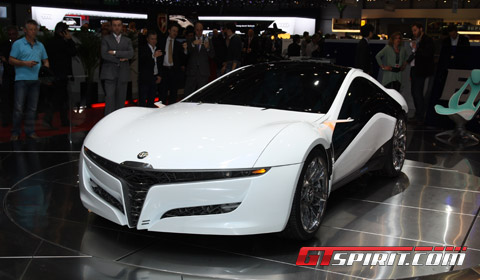 After an absence of two years, Bertone returns to the Geneva Motor Show with a beautiful Alfa Romeo concept car called the Pandion. The Bertone Pandion has been created to celebrate Alfa Romeo's hundred year anniversary.
The Bertone Pandion is powered by a 4.7 litre 8-cylinder Alfa Romeo engine, but at this point the design of the Pandion is far more important than the motorization and performance. The Pandion is the first car produced by Mike Robinson, the new Design Director at Bertone. The Pandion can be described as a dream car that draws it name from an Osprey in the animal world. The doors that stretch from front to rear fender open up 90 degrees and stretch out 3.7 meters into the sky when fully opened.
The sharp and clean lines of the body of the car are contrasting to the rear of the car where an 'open-end' show what looks like internal parts of the car have been ripped out by the sheer speed of the car. The Italian design company points out that this should add a lot of motion to the car, to make it look as if it's moving even when it is standing still. The Bertone Pandion certainly has a dynamic design and we hope to see it on the road some day!