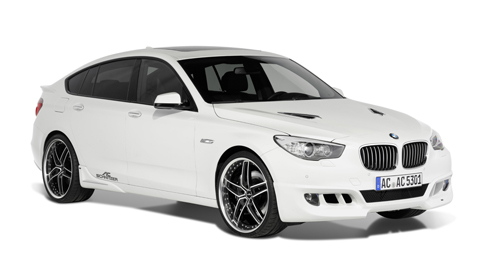 AC Schnitzer have attempted to enhance the 5-Series "Grand Tourers" touring credentials for their latest kit. Providing enhancements for performance, handling an aerodynamics, the German company intend to debut the finish product at the 2010 Geneva Auto Salon which starts tomorrow.
The performance upgrade comes in the form of an ECU tweak which upgrades the 530d engine from 245bhp to 286bhp. AC Schnitzer have also added a new exhaust with two tailpipe finishes to make sure this performance upgrade has the right soundtrack.
An AC Schnitzer spring set toughens up the suspension, helping the car cope with the extra downforce produced by the addition of both front and rear spoilers. There's also a set of bonnet vents with chromed centre web as well as a new side skirt and rear bumper.
Inside, AC Schnitzer installed a cover for the i-Drive system controller as well as a foot rest and pedal set manufactured in aluminium.
Wheel options are plentiful with AC Schnitzer offering a range of 19 and 20 inch options as well as three different 22 inch rims.
We will have more live images and extra info next week when we visit the 2010 Geneva Auto Salon, so keep checking back.