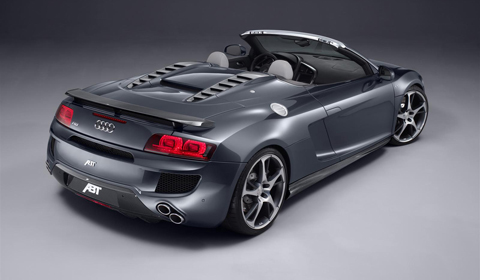 The final car that will be on the ABT stand at this years Geneva Auto Salon is their take on the R8 Spyder. Another unreleased production car, ABT will be the first to show their modifications to Audi's topless R8.
Taking the 5.2 litre V10, ABT have managed to pump out an extra 75bhp bringing the figure up to a round 600bhp. The result is 0 to 100km/h (62mph) in just 3.8 seconds and a top speed of 320km/h (199mph). Suspension springs from ABT provide the extra handling performance to cope with the increase in power once again.
Aerodynamics are provided for in the form of a frontgrill, frontskirt, sideskirt and rearskirt with exhaust covers. A choice of wheels are offered including the ABT BR in 20 inches as well as ABT CR in 19 inches.
Hopefully we should be able to provide you with more details and photos when the car is officially unveiled at the show tomorrow. Here's a small gallery, let us know what you think.