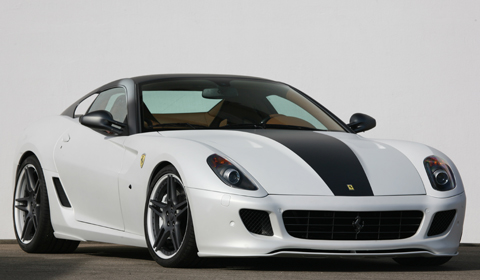 Novitec plan to release the Race 848 at the 2010 Geneva Auto Salon. Novitec have taken a 599 GTB and created an 848bhp monster as part of a limited production run of just three examples.
The power comes from a dual-compressor system, bolted to the 599's six-liter V12 frame. Boost pressure for each of the compressors is electronically limited to 0.48 bars, yet this is still enough to yield gains over the production engine of 228bhp to a new figure of 848bhp at 7,900rpm. Torque grows as well by 234Nm to 842Nm at 6,300rpm.
It is not just the compressors that create the extra power though. Novitec have modified the cooling systems, installing a dedicated oil circuit for the compressors, a large water-to-air intercooler with its own dedicated water circuit as well as installing a custom-developed intake manifold, high-performance injectors and a sports air filter. Outside of cooling, there is high-performance headers custom-designed for this car and a stainless steel, adjustable sports exhaust to replace the standard unit. ECU management ensures optimum performance of all the components.
Having retained Ferrari's excellent six-speed F1 transmission, 0-100 km/h (62mph) takes just 3.4 seconds, 200km/h (124mph) in 9.6 seconds with 300km/h (186mph) coming up in just 23.7 seconds. Top speed is estimated to be more than 345km/h (214mph).
Aerodynamics add to the performance of the car. The new front spoiler lip, rear apron and rear wing all work to increase downforce and reduce lift. Rocker panels slice through turbulent air between front and rear wheel arches and cool the Brembo brakes.
The brakes themselves feature six-piston brake calipers measuring 405 millimeters and are manufactured from steel. Covering these are the Novitec NF3 three piece alloys, coated in Pirelli P Zero tyres measuring 20 inches at the front and 21 at the rear. Sports suspension allows custom dampening and can raise the car by as much as 40 millimeters to protect the nose, at 80km/h it reverts to it's original position.
The interior includes a plaque with the car's serial number, aside from that, almost any tastes can be catered for. Keep checking back next week for more exclusive photos of the car.