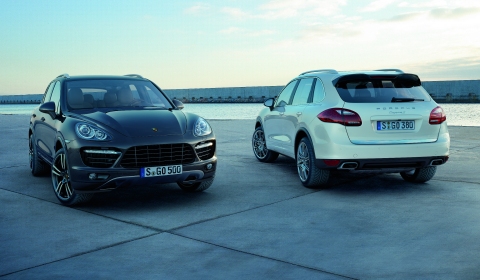 Porsche will officially debut its brand new generation of the Cayenne at the Geneva Motor Show next week. A full range of five vehicles will be available. The most special member of the line-up is the Hybrid vehicle. The Cayenne S Hybrid – the top model – combines the performance of an eight-cylinder with the economy of a six-cylinder running on much less fuel.
Due to the installation of a new extra-light all-wheel drive, the weight is down – for example on the Cayenne S – by 180 kilos. The extra space inside is ensured by the wheelbase now 40mm or almost 1.6 inch longer. In all, the new Cayenne is 48mm or 1.9 inch longer than its predecessor.
The range starts with a 3.6 litre V6 Cayenne with 300bhp and a Cayenne Diesel with 240bhp (176kW) and 550Nm (405lb-ft) three-litre V6. The high-torque Cayenne S has a 4.8 litre V8 power unit, which produces a 400bhp as a maximum output instead of the former 385bhp. The final member in the line-up is the Cayenne Turbo with its 500bhp (368kW) 4.8 litre V8 biturbo. Compared with the former models, fuel consumption of this new range is down by up to 23%.
The Cayenne S Hybrid has an intelligent interaction of the three-litre supercharged V6 and the electric motor. Depending on driving conditions, the vehicle uses only one drive unit operating by itself or with both drive units working together. The 34kW (47hp) electric motor can jump in at lower speed to accompany the 333hp compressor engine. Together, the two drive units deliver maximum system output of 380bhp and peak torque of 580Nm (427lb-ft) at just 1,000rpm. This is the same kind of performance as the Cayenne S with its V8 power unit.
Sales of the Cayenne in Europe are starting on 8 May. The prices of the new Cayenne models are as follows: Cayenne €46,400, Cayenne Diesel €49,900, Cayenne S €60,900, Cayenne S Hybrid €65,900, Cayenne Turbo €96,900. These are without local taxes.