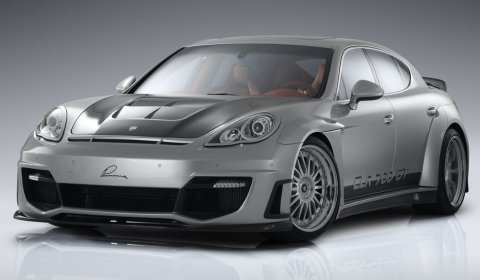 Lumma Design is presenting their take on the Porsche Panamera near lake Geneva next week. They have called it the Lumma CLR 700 GT. The release at the Auto Salon follows the renderings unveiled October last year. Lumma has not released any official photos or pictures of the vehicle itself. However, we can share the highlights with you until the official footage is released to the public.
The four-door saloon from Zuffenhausen is equipped with a large number of carbon parts. The cup spoiler sword, the lateral air inlets, the rear skirt corners and the entire rear diffuser are made of carbon, as well as the side skirt and the rear wing with the aluminium stilts. The sports bonnet with the two additional air vents has also been made of the ultra-light material and is also reinforced with a Kevlar bracing. The aerodynamics kit is completed with the front spoiler with LED indicators, wing extensions and the rear skirt with the air vents. Headlight rings in the car colour and shaded rear lights are added to the design as well.
Lumma is working on a performance enhancement up to 700hp (515kW). Under the bonnet ther are engine optics kit in red with carbon inlay and the coat of arms logo. A new sound is produced by the end muffler with its four stainless steel end pipes, each measuring 100mm in diameter.
Wheels from the "Racing Edition" render were fitted. The three-part rims have a forged star hub and the stainless steel outer well in 10.5×21 inches with tyres measuring 265/30 at the front- and 12×21 inches with tyres measuring 305/30-21 at the back axle.
The interior is an entire leather- and ultra-suede setup with silver decoration stitches. The aluminium pedals, light alloy foot rest and silver seat-belts at all four seats are added to the interior. A type plate displaying the consecutive serial number, the door sills with the illuminated lettering "CLR 700 GT" as well as the velour floor mats and the boot mat with the Lumma coat of arms logo and leather edging complement the interior design.