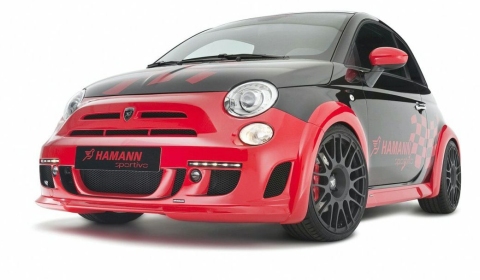 German tuner Hamann Motorsport has unveiled a range of performance upgrades for the Abarth 500 and the Abarth 500 Esseesse. A total of five performance enhancements are available for the Fiat 500 series. The upgrades are presented up to a maximum 271hp (202kW) and up to 380Nm of torque. The overall increase is pretty large if you consider the standard package of the Abarth 500 of 133hp and 158hp for the 500 Esseessse.
Hamann installed forged pistons, enhanced connection rods, a modified turbo charger with charge air cooler, a race clutch with weight-optimised one-mass flywheel and a new control electronic. For optimum deceleration, there are sport brakes with a four-piston calliper and 264mm or 305mm large brake discs.
Furthermore, they offer an alteration for the manual transmission. By applying a long fifth gear, the engine rev is decreased by 500rpm which allows a higher end speed. Customers can also order a self-locking differential which allows a locking capacity of up to 50 percent and therefore significantly increases the traction. Different sports suspensions are available to ensure a better handling.
New aerodynamics components are made of light composite materials. The kit includes a re-engineered front skirt with integrated LED daytime running lights and special wing extensions fitted at the front and the back. These make the car body wider by 30mm at the front axle and 35mm at the rear axle. The newly designed side skirts act as a connection between the two. At the rear you will spot a new sports exhaust systems with two- or four end pipes and a Ferrari-like diffuser.
The black matt anodised, one-part rim is offered in the size 8.0×18 (front axle) and 9.0×18 (rear axle). The tuner recommends tyres in the dimension 215/35 R18 or 225/35 R18. Another option is the HM Evo 18 inch rim with glossy black varnish and the diamond-polished rim star. The rim is offered in the size 7.5×18. The tuner recommends tyres in the dimension 215/35 R18 at the front- and 225/35 R18 at the rear axle.
As an alternative to the Largo programme, Hamann offers the "sportivo-line" for the Fiat 500. Front skirt, side wings, rear skirt and design wheel HM sportive I are available inside the kit. The black matt varnished, one-part rim has a diamond-polished outer edge and is offered in 7.0×17. The tuner recommends tyres in the dimension 195/40 ZR17 or 215/35 ZR 17.
The full line-up for the Fiat 500 Abarth and Abarth Esseesse can be ordered today via local Hamann dealerships.