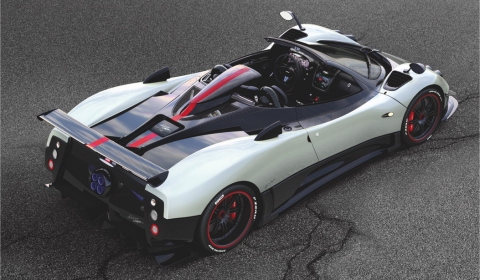 The Pagani Zonda line-up isn't complete without a Roadster version of the Zonda Cinque. A limited production of only five exclusive roofless supercars was introduced in July last year. It is the exact same amount as its coupé sister. The Italian supercar manufacturer will showcase its latest addition at the Geneva Auto Salon 2010.
The Carbon-Titanium chassis has been redesigned for the compensation of a missing roof. The roof is stored in the front bonnet. The massive air intake for the 678hp Mercedes AMG V12 engine is placed just inches over the passengers' ears, giving the driver front row seats while creating the exhaust note of the bespoke Zonda Cinque Inconel and Titanium exhaust system.
The engine produces 678hp and 780Nm of torque. As a standard the supercar is equipped with an ECU, traction control, ABS, inconel/titanium exhaust system coated with ceramic, suspensions in magnesium and titanium, six-speed cima sequential gearbox and Pagani leather/carbon fibre racing seats. The maximum downforce is 750kg at 300km/h.
The power is converted to the road via APP monolitic wheels forged in aluminium and magnesium, sizing 9×19 at the front and 12,5×20 at the rear. The rims are outfitted with Pirelli PZero tires – 255/35/19 front and 335/30/20 rear. Stopping this ultimate sports car is realized via a carbo-ceramic Brembo brake kit – front 380x34mm, monolitic 6 piston caliper and rear 380x34mm, monolitic 4 piston caliper.
Anymore figures? But of course, the dry weight is only 1.210kg. The weight distribution in normal driving conditions is 47% front and 53% rear. Acceleration from 0 to 100km/h is done in 3.4 seconds, 0-200km/h in 9.6 sec. Maximum side acceleration is 1,45 G with normal road tires. Stopping the car from 100-0km/h takes 2.1 seconds, 200-0km/h in 4.3 seconds.
Oh yes, the price tag… 1,3 million euros without taxes.