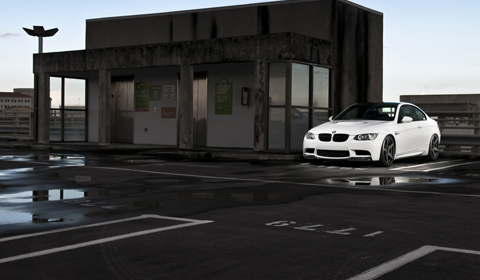 Do you know the Avus Performance BMW M3 we wrote about yesterday? Turns out this Avus Competition BMW M3 isn't tuned by the German company Avus but it's a project build by Active Autowerke, a BMW tuning company based in the United States. I hear you think; what's going on? And that's exactly what we were thinking when we received the following email earlier tonight:
Dear GTspirit, My name is Omar Murray and I am the Director of Sales and Marketing for Active Autowerke, we are a BMW tuning company based in the US and we have been in business for over 28 years.. I have been contacted by Vorsteiner and a few other companies regarding your recent article on the 'Avus' bmw M3. Unfortunately that car does not belong to Avus and is actually my personal car.
That made me wonder if my colleague Lawrence who wrote the article about the Avus Performance M3 made a mistake, but the source was a press release submitted by Avus Performance through Miranda Media. It looks like Avus simply used the photos of the Active Autowerke BMW M3 without their permission to sell some of the ADV1 wheels of which they happen to be a dealer… Not very chic!
To set things right for Active Autowerke, here the full list of modifications on their very juicy BMW M3:
Performance:
Active Autowerke Signature Series Performance Package.
Active Autowerke Signature Series Rear Exhaust and X Pipe w/ Connecting Pipes
Active Autowerke E9X M3 Performance Pulley
Active Autowerke Drop In Filter
Active Autowerke Performance Software Upgrade V 2.0
Active Autowerke Short Shifter Kit
Active Autowerke Spec Performance Brake Pads
Cosmetic
Vorsteiner Carbon Fiber GTS3 Front Bumper
Vorsteiner Rear Diffuser Type II
Vorsteiner Carbon Fiber Boot Lid
Suspension:
KW Variant 3 Coilover System
Wheels:
Brand: ADV1 Style: 5.1 Size: 20 x 10.5 Rear Tires: Nitto Invo 295/25/20
Brand: ADV1 Style: 5.1 Size: 20 x 8.5 Front Tires: Nitto Invo 255/30/20
Active Autowerke BMW M3 Gallery:
For more information about the Active Autowerke BMW M3 visit
Activeautowerke.com
!