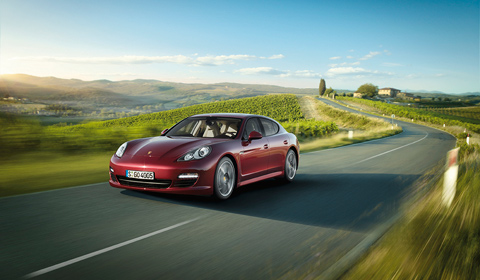 Porsche announced today that the entry models of their Gran-Turismo model, the Porsche Panamera, will make their debut at the Beijing Motor Show. The Panamera and the Panamera 4 are powered by a brand-new 3.6 litre V6 with an maximum output of 300bhp. In the Panamera the V6 will send all its torque to the rear wheels, the Panamera 4 will feature active all-wheel drive.
The two new versions of Porsche's Gran Turismo are equipped with PDK Porsche-Doppelkupplungsgetriebe and Auto Start Stop. Together with the new V6, that is 30kg lighter than the eight cylinder engine found in the Panamera S and 4S, this results in an average fuel consumption of less than 10 litres on 100 kilometres. Nineteen-inch all-year tyres with optimised roll resistance available as an option reduce these consumption figures by another 0.2 litres/100 kilometres.
The Panamera and Panamera 4 will be making their world debut at the Beijing Motor Show as of 23 April 2010. Both models will be available at the German market in May 2010 and are scheduled to enter the US market in June 2010. Prices for the entry-level Porsche Panamera start at Euro 63.600 excluding VAT and local taxes while the Panamera 4 fitted as standard with PDK Porsche-Doppelkupplungsgetriebe starts at Euro 70.500 excl. VAT and local taxes.