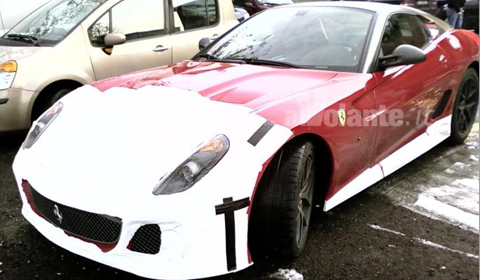 It seems everyone's getting excited about the latest rumored Ferrari. The 599 GTO could be unveiled at this years Beijing Motor Show (23rd April – 2nd May) which means that it is perfectly possible that these spyshots show the car in its development stages. Whilst they don't reveal much about the car, we thought you might still be interested in seeing them.
What the pictures lack in detail, the rumours don't. Firstly, it's now being suggested that the 599 GTO will be Ferrari's fastest road car of all time. Understandable considering we know already know that it will have 670bhp. Secondly, the cars base will be an unrated version of the HGTE edition 599. Rumours here suggest that the ammount of downforce on the GTO will be double that of the standard car, perhaps making it the ideal trackday toy. New alloys are obviously going to be part of the package.
The likely base for the 599 GTO will be the customer development mule; the 599XX. Both cars would share the 6,0 liter V12 unit, originating from the Enzo and alowing a 0-100km/h (62mph) sprint of just 3.2 seconds. We can't wait to see the GTO in person, however, when it does go on sale it will be an extremely limited car, selling for around €320,000 (£280,000) a piece.
To see pictures please visit alvolante.it
[Via Autogespot]