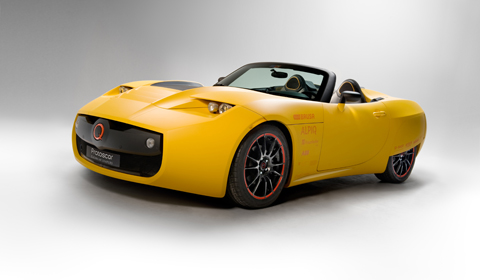 As the Geneva previews keep coming, the theme seems to be making itself clearer and clearer: environmentally friendly motoring. Whilst this doesn't normally get us excited, there are a few variants of 'green' cars that do stick out to us though. Whilst the design is rather off-putting, the mechanics and power are of interest.
Power figures are definitely what makes this concept. It's got 408 horsepower and 472 pound-feet of torque from an EV set-up. However, all is not quite what it seems. For a start, all those batteries add up to a rather hefty 1,579kgs (3,483lbs) which means that 0-62mph (100km/h) only comes in at around five seconds with a top speed of 124mph.
Whilst the Protoscar's design is a little individual, it does make use of a tried and tested platform in the GM Kappa platform. Also underpinning the Pontiac Solstice, Saturn Sky and Opel GT, this chassis should be well placed to attempt to tame the convertible.
As for range, there are several recharging options, the most interesting is one which provides 100km (60 miles) of range after a 10 minute charge through an off-board DC rapid charger interface.
[Via Autoblog]