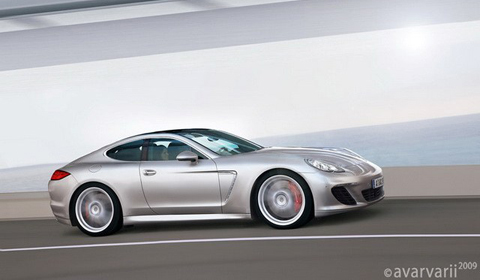 It's evident that Porsche will produce at least one other model based on the Panamera platform to spread the cost of research and development in that area. Rumours have, for a while suggested that the Stuttgart based company will release a GT-style car as a spiritual successor to the classic 928.
The new coupé will be positioned further away from the Boxster, Cayman and 911 ranges and will compete with the likes of the Maserati GranTurismo, Aston Martin DB9 and the BMW 6 Series. A shorter wheelbase will feature and a more elegant sloped back will make the car less controversial than the Panamera.
There should be more room in the rear and more trunk space than the 911. The front is not expected to be very different from the Panamera, continuing the conservative and cautious traditions of the Porsche family tree.
[Via TopSpeed & image via Avarvarii]