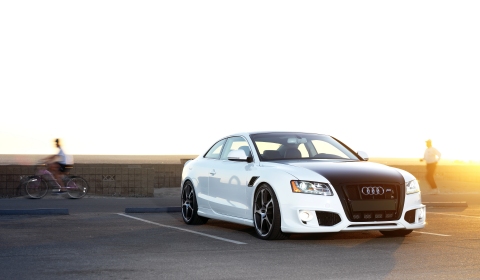 ABT has shared new pictures with us showing the ABT AS5 introduced at the Geneva Motor Show 2009. We choose the best for our category Photo of the Day!
The AS5-R is an Audi S5 tuned up to 510bhp delivering a top speed up to 183mph (292km/h). The AS5-R sprints to 62mph in just 4.5 seconds. As optic changes the vehicle got a front spoiler accentuating the ABT grill and the striking section around the fog lights, inner fender skirts and the gill-shaped air inlets providing contours to the side of the ABT AS5-R. The rear has got ABT rear-skirts and four exhaust pipes. The designers at ABT recommended 20-inch BR alloys.
Larger size picture can be downloaded here!