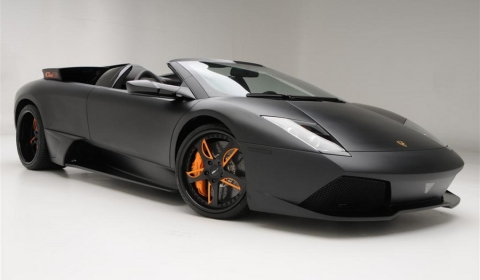 Special editions are named special because they are, but some people do think differently. This No2/50 Murcielago LP650-4 Roadster from an owner in Beverly Hills was shipped from the Lamborghini dealership directly to several tuning companies in the neigbourhood.
The supercar was stripped down to the metal and the complete interior was removed. A matte black paint job with gloss black highlights and brand new interior was installed. But that was not all. It also got 19-inch GFG three-piece forged alloy wheels with a glossy black outer lip, matte black center and orange highlights. The custom made rims got Pirelli P-Zero 245/30/19 front and 355/25/19 rear tires.
The final modification was a full new audio system including Focal Utopia KIT 7 component 3-way speakers powered by two Alpine PDX series amplifiers with over 1600 watts of power, and an Escort SRX radar detector with the main controller mounted on the center console.
We personally think this is a bit too much, especially the way the audio system was implemented. Your thoughts?
[Picture via Autogespot]