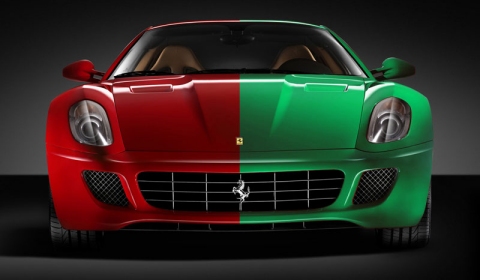 Ferrari President Luca di Montezemolo has announced that a new Ferrari model will premiere at the 2010 Geneva auto Show starting in March. The Ferrari 599 GTB Hybrid will be the first hybrid vehicle by the Italian supercar manufacturer.
The "Green" 599 will be powered by a conventional engine coupled with an electric motor. The electric basis is a package of Lithium-ion batteries and braking energy recovery system similar to the KERS used in Formula 1. Another feature is the start/stop system.
The main differences between the Ferrari hybrid and other hybrid cars in the market are two electric motors instead of just one. These operate a torque vectoring system, with one motor sending power to the outer wheel in cornering while the other motor regenerative brakes the inside wheel. A rather nice and interesting feature!
The information was unveiled during the offcial release of Ferrari's new F10 Formula 1 race car. Montezemolo stated they will further promote the transfer of F1 technology to its new road cars.
[Via iMotorMag]