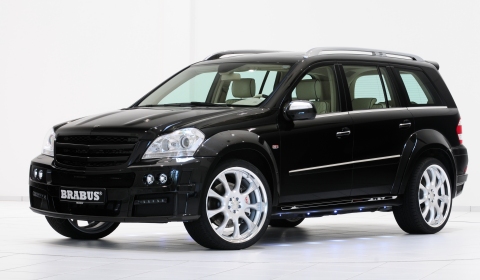 German tuner Brabus has officially introduced their latest member the GL 63 Biturbo. The luxury SUV is powered by a B63 Biturbo 6.3 liter V8 engine with 641bhp (478kW) and a maximum torque of 850Nm (626lb-ft). Next to some decent performance figures they have fitted the Widestar body kit and forged 23-inch wheels. Also part of the standard equipment is an interior with leather and Alcantara.
In combination with a modified Speedshift 7G-TRONIC seven-speed automatic transmission and permanent four-wheel drive the engine accelerates the vehicle from rest to 100km/h (62mph) in just 4.7 seconds and reaches an electronically limited top speed of 300km/h (186mph). Naturally the vehicle's aerodynamic properties, tires, suspension and brakes are all adapted to the increased performance.
The Widestar body kit adds six centimeters (2.4 inches) to the width of the GL 63 Biturbo. The Widestar front apron was shaped in the wind tunnel to reduce aerodynamic lift on the front axle. Large air inlets provide the engine and the front brakes with as much cooling air as possible. Furthermore there are LED daytime running lights and four auxiliary headlamps.
Rocker panels create a smooth transition between the fender flares on front and rear axle. Integrated entrance lights facilitate entering and exiting the vehicle in the dark. You will also spot a roof spoiler and the rear apron with integrated diffuser. The apron is custom-tailored to fit the wider fenders and in addition to cutouts for the tailpipes of the stainless-steel quad sport exhaust system features integrated underfloor lights.
The large wheel houses offer room for three-piece Brabus Monoblock E Platinum Edition 11Jx23 wheels. These nine-spoke wheels have a forged and high-gloss-polished drop center and can be fitted with Pirelli or Yokohama high-performance tires up to size 305/30 R 23. It is also possible to choose forged 21-inch Monoblock VI or F wheels, 22-inch Monoblock VI, E, Q or S and new Monoblock G Platinum Edition forged wheels. The ride height is lowered by some 30mm (1.2 inches).
It doesn't stop here. The SUV got also a high-performance brake system. The version for the GL 63 Biturbo features 12-piston aluminum fixed calipers and vented and cross-drilled 380×36 millimeter (15.0 x 1.4 inches) discs on the front axle. The rear axle stops on 355×28 mm (14.0 x 1.1 inches) brake discs and six-piston fixed calipers.
On the inside there is a custom-tailored interior from a combination of soft and breathable Mastik leather and Alcantara. Wood and carbon fiber inlays are available in a variety of versions and are color-coordinated with the leather. The speedometer with 320km/h (200mph) scale, aluminum components such as pedals and door-lock pins and an ergonomically shaped sport steering wheel complements the set of refinements.
On the subject of multimedia you can get special consoles for the backs of the front seats each having an integrated seven-inch LCD screen, a DVD player and a folding table.
The GL 63 Biturbo is built in small-series production and starts at 368,000 Euros MSRP.