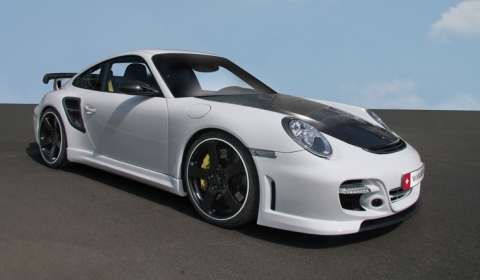 The Geneva Motor Show starts in about one-and-half month. Until the venue opens we will preview some of the introductions. Mansory has pre-released their latest package for the Porsche 997 Turbo, according Autogespot.com. The program follows after the official introduction of the 997 Series package at the IAA in September.
We share the same idea as our fellows online editors that Swiss-based tuner will introduce the new package at the yearly venue in Geneva. The body kit consists of a new front skirt. Upon request you can choose for a front lip and splitter made of carbon fiber. Same goes for the rearwing. The complete rearskirt with its integrated air outtakes and sport exhaust system is also available.
The performance improvement of the engine includes a high performance manifold and two silencers. They present a "thrilling sonorous sound", quoting Mansory.
Stay tuned for more regarding Geneva 2010!