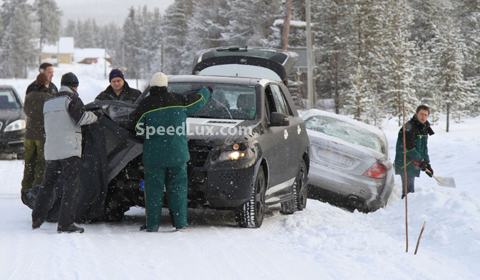 The new S-Class Coupé and the next-generation ML are two Mercedes-Benz models that we hope to see unveiled at one of this years major motor shows. For now though, we suspect that there's still a little work to be done on the final designs.
These shots show what happened when the S-Class Coupé, cold weather testing in northern Sweden, lost control on ice and took a dive into the ditch. To rescue the car, Mercedes-Benz mechanics bought in the next-generation ML-Class mule… which couldn't do it. Only after attaching the ML to an AMG S-Class with snow chains did the S-Class Coupé finally make it out of the ditch.
The lesson from all this? Don't expect too much off-road potential from the next generation ML Class!
[Via SpeedLux]