Audi UK has unveiled the prices for the R8 V10 Spyder. The roofless supercar will retail at £111,955 OTR for the manual setup and £117,155 OTR in case of the six-speed R tronic gearbox.
The latest R8 road car is based on the 525hp, 5.2-litre FSI model, but features a bespoke body incorporating additional weight-saving carbon fibre composite panels as well as the all-important fully automatic lightweight fabric hood. Good for a 4.1 second 0-62mph sprint and a top speed of 197mph. Orders are now taken!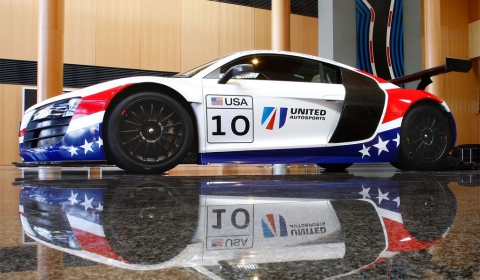 A second introduction is the new Audi R8 LMS motorsport vehicle which uses the V10-powered lightweight aluminium supercar as its basis and was developed by Audi Sport in close cooperation with quattro GmbH for "customer" motor sport teams. Main differences are the more extensive use of weight-paring carbon fibre, the installation of a race-spec gearbox and the removal of all standard interior trim.
United Autosports, a newly formed British racing team based in Leeds, Yorkshire, has secured two examples of the race prepared super car. Its £267,000 'list price' is considered to be a bargain after achieving 23 race victories throughout Europe in 2009, its debut season.