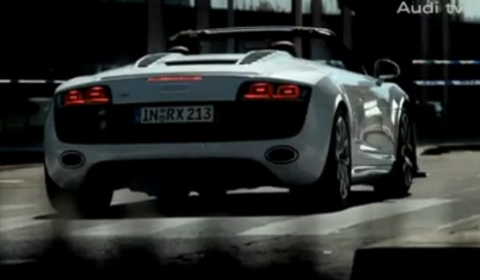 Unveiled at the 2009 Frankfurt Motor Show in September the Audi R8 Spyder is the latest supercar from the German car manufacturer. The roofless and third version in the R8 lineup runs the same 5.2 liter V10 engine found in the coupé.
The Spyder produces 386kW (525hp) and sprints to 100km/h (62mph) in 4.1 seconds up to a top speed of 313km/h (194mph). The two-seater features an Audi Space Frame (ASF), quattro permanent all-wheel drive, full-LED headlights and a seatbelt microphone available as an option.
The Spyder does not have sideblades behind the doors. The side panels and the large cover over the storage compartment are made of a carbon fibre composite. The supercar has a cloth top. Reason why? The soft top's has less weight and keeps the vehicle's total weight and center of gravity low.