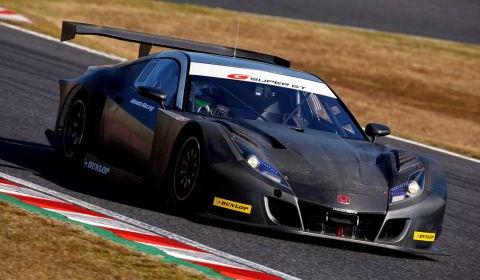 At the end of 2009 Honda released a video of their latest project the HSV-010 GT lapping a track in Japan. Today we can show you a gallery with brand new pictures along with several new details. First of all, HSV in the race car's name stands for 'Honda Sports Velocity'.
The HSV-010 GT is said to be the racing variant of the previous and very popular Honda NSX. This probably mean that we won't get a streetlegal successor of the NSX. Honda's plans are to use this racer in the GT500 class of the Japanese 2010 Super GT series.
The engineers decided to use a naturally aspirated 3.4 liter V8 engine with an output of plus 500bhp together with almost 400Nm of torque. The power together with a weight of almost 1.100kg (2.420lbs) creates a very racing car. It even has paddle shift steering wheel! We can't wait to see official sprint figures from Honda.
Stay tuned for more!
[Via Carscoop]