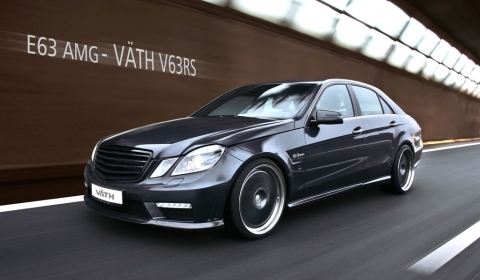 VÄTH Automobiltechnik has given the new E-Class E63 AMG a proper treatment. The huge 20 inch forged three-part alloy rims with 245/30-20 or 285/25-20 high performance tyres and the sportive exterior carbon package are easily noticeable on the vehicle.
The kit includes a new grill without the Mercedes star. The new silhouette is also supported by a boot spoiler lip and carbon diffuser. The arrow-shaped front bumper got a carbon front apron suspension. If we believe the German tuner then the road holding capacity has been improved by lowering the airmatics by about 30mm. A sports braking system with 390 mm brake discs and with eight pistons fixed caliper for the front axle is already available upon request.
On the subject of performance they achieved an increase up to an output of 605hp, a torque of 690Nm, maximum speed of 340km/h and an acceleration of 4,1 seconds from 0 to 100km/h. The engine retrofitting includes special forged pistons, valves, sports cam shafts, as well as big intake and exhaust valves. In addition, the crank drive has been improved, the cylinder head channels have been enlarged by milling and engine software has been updated.
On the inside you can get a carbon interior set and velour floor mats with the embroidered VÄTH logo.
Prices? The wheel set sells for €8,211. The VÄTH grill is available for €797, the boot spoiler lip for €333 and the carbon diffuser for €1,773. The carbon front apron suspension swaps owner for €1,416 and the lowering package is yours for €821. The engine retrofitting costs €19,635 and the brake kit €5,355. Finally, there is the carbon interior set for €2,737 and the velour floor mats with the embroidered VÄTH logo for €226.00.