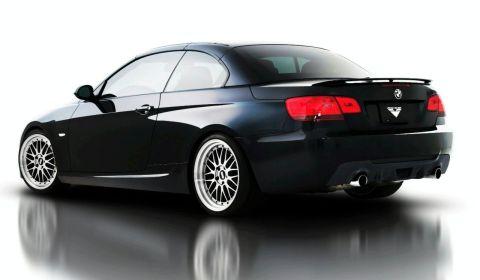 We know American tuner Vorsteiner from packages we have seen before for Porsche's, Bentley's and Mercedes'. A while back they also created a package for the BMW E92 M3 coupé and sedan. It seems that Vorsteiner wasn't entirely satisfied with the finished package for the 3-Series because they have created a new kit, called the 'V-MS Aerodynamic Package' for the M-tech 3-series.
From this week on it's available for both the coupé and cabriolet models. The V-MS Aero package is designed to be simple and easily installed onto the factory bumpers enhancing the performance and sportiness of the existing factory M package.
Up front you will get a two-piece add-on splitter constructed of carbon fiber. The front splitter slightly extends the profile of the factory front bumper producing more down force.
The rear bumper is finished with a totally redesigned carbon fiber rear diffuser that attaches itself to the factory mounting points. A centrally placed exhaust ventilation opening is available together with a new diffuser. Besides that the rear bumper also has two integrated aero fins placed next to the air vent to improve airflow and down force.
Last but not least, the package includes a set of rims, 19 inch up front and 20 inch forged Piece Monoblock wheels in the back.