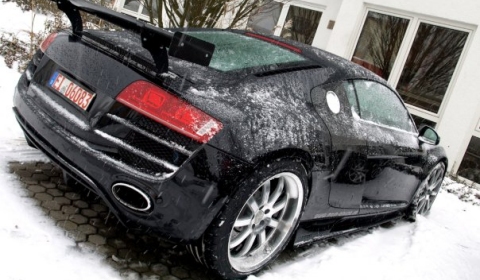 German tuner MTM is working on several packages for the Audi R8 line-up. One of the kits is a supercharged MTM R8R with only rear-wheel drive and a brand new body package. The body kit is one of the first exterior kits that the tuner from Bavaria offers to its clients.
Not a lot is known at this stage, MTM only unveiled some pictures of the vehicle placed in front of the workshop. Although, we do think that the supercharger and ECU upgrade stayed the same with respect to the vehicle we reviewed last year. This means a 4.2 FSI V8 engine that is being enhanced by adding a new twin-screw supercharger system. This addition brings the total output from 420 to 560 bhp and an extra 150Nm of torque. The R8 R does 0-100 km/h in 3,9 seconds. As comparison the normal R8 is 0,7 seconds slower.
Regarding the bodykit you will easily spot the massive wing on the back, the enormeous race diffuser on the front and the new rear diffuser. The kit also includes new sideskirts with MTM branding. The tuner outfitted the supercar with two different sets of Bimoto rims. The left side differs from the right side. Inside the vehicle there are lightweight Recaro seats.
Stay tuned for more information on the vehicle!