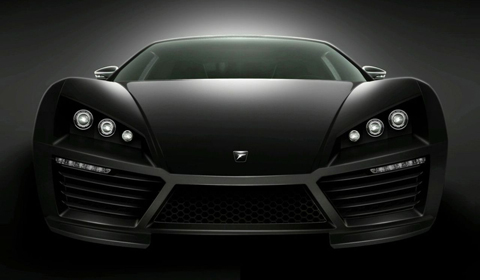 The pictures below show the latest attempt at re-defining the British sports car for the modern era. They come from Leicestershire, UK based Fenix Automotive, a company set up by Noble Automotive founder Lee Noble. The company hopes to offer a supercar along the lines of the Noble M12, offering huge performance at a bargain price.
Two photos have been released that show the front of the car as well as a top-down plan. They both show a car that resembles the Noble M15 presented before Lee Noble parted ways with Noble Automotive. Having said this, Lee Noble himself describes the design as "[owing] nothing to what I've done before… [it] has quite literally been a 'clean sheet' exercise from the start. It's edgy, with powerful lines, and aerodynamically will be in another league to any of my previous cars."
From reading the rumours it becomes clear that the specs are expected to be similar too. With weight kept down to 1200kg, the two cars will weigh pretty much the same. With the installation of a Corvette LS3 V8, the cars also expected to feature around 450-480bhp. If this wasn't enough, Fenix also plan to shoehorn in the LS9 V8 from the Corvette ZR1 at some stage, offering around 638bhp.
The power figures alone sound enough for a 0-100mph dash of sub seven seconds and a top speed of 200mph. The best part of it all is that they expect to see the car go on sale in the later half of the year.
Of development, Lee Noble said; "our first prototype is now in build and development will start in around one month's time. We'll be hot-weather testing the first prototype on the mountain roads around Port Elizabeth, South Africa, where the car will be manufactured. But I'm itching to get the car back to the UK where I can set it up on roads I know well."
Noble hopes to sell around 70 cars a year with the possibility of extending production to around 500 cars when imports start to the Americas and Asia. In our opinion, the most important part of the plan is the price; £75,000 (€83,000).
We can't wait to see the full design, we'll keep you posted on any new details.
[Via Car Magazine]