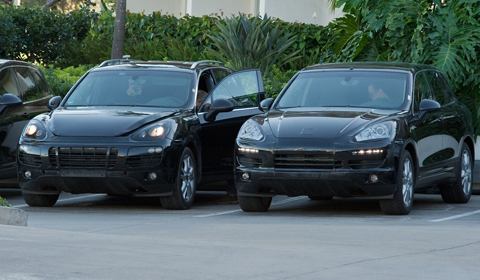 It looks like Porsche are out testing next years Cayenne. These two mules were spotted out in Georgia, USA and were wearing very little camouflage perhaps indicating that it is nearing the end of its development period. From the pictures we would guess that Porsche are testing the standard Cayenne alongside the lower, more aggressive Cayenne Turbo.
Since its introduction in 2003, Porsche's 4×4 has suffered from the same 'marmite' styling issues as blights the majority of Stuttgart cars. It seems that this time around, Porsche have gone for a sleeker, more rounded look, keeping weight down perhaps even at the expensive of off-road capabilities.
The basis of the car will be the 2011 Volkswagen Toureg due to be released at next weeks Detroit Motor Show. 40mm will be cut from the wheel base with 20mm being shaved from the roof line, estimates also suggest that it could be around 200kg lighter than the previous generation.
Both Cayenne and Toureg will be built together at VW's Bratislava plant in Slovakia once again. We are expecting V6 and V8 options to be made available from launch together with hybrid and turbo diesel options.
To see the finished product you will have to wait until the 2010 Geneva Auto Salon.
[Via Jalopnik]