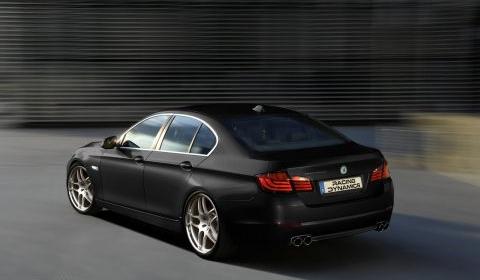 Italian tuner Racing Dynamics is one of the first tuners to present a kit for the brand new 2010 BMW 5-series. They have released the first picture of a package based on the 535i and 550i.
The package for the 535i, called the R35, gets a performance bump of 110bhp, bringing the total to 410 horses produced by its V6. Including the 530Nm of torque you will able to sprint from standstill to 62mph (100km/h) in just 5.3 seconds.
Racing Dynamics flagship will be based on the 550i and is baptized as the R50S. The 110 horses that were added to the R35 are stunning, but the package for the R50S adds up to 213bhp, giving the V8 a total output of 620bhp! Enough power to let you cruise over the Autobahn at a top speed of 212mph (340km/h). Just as a comparison, the current M5 top speed without electronic limiter, will not get you passed the 180mph (288km/h) barrier.
Both BMW's also get a brand new exhaust system, differential and the chassis got specialized revision at the Racing Dynamics factory. To distinguish your BMW from the standard line-up, Racing Dynamics adds several carbon fiber parts and a set of 21 inch wheels.
[Via Autoblog.nl]