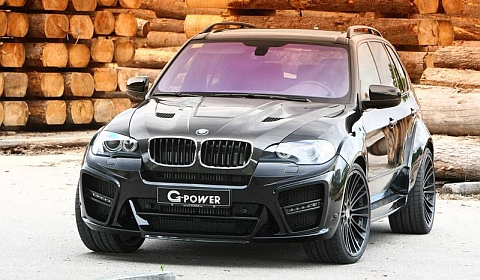 Want a X5 with a larger engine and greater peformance than the current X5M? (or even the new G-Power tuned version!) If the answer is yes then the Typhoon Black Pearl is probably the car you're looking for. Boasting 625bhp and a top speed of over 300km/h (186mph), the Typhoon Black Pearl can easily be dispatched on long stretches of autobahn.
The bodykit extends the body by 7cm and provides extra space for the new rims. There is a fully re-designed front spoiler which generates greater cooling potentials as well as aerodynamic benefits. The side skirts complement the aerodynamic shape and extend it towards the rear which also recieves a complete overhaul.
G-Power have added a set of five LEDs along the side skirt that light up either through the touch of the remote control or when the owner touches the door handle. Stainless steel inserts, again with illuminated G-Power logos protect the door sill from damage.
In collaboration with ASA, G-Power have installed their SK III RS supercharger system boosting the X5's engine by around 270bhp and torque by 225Nm. Boost pressure is set at 1.0 bar. Attached to this is a brand new exhaust system engineered from stainless steel which includes racing headers, racing catalysts and end mufflers.
Naturally, all this extra power means that the structure of the engine needs to be drastically changed to cope. G-Power have stepped up to the task and have fitted a new set of forged pistons as well as new crankshafts and connecting rods. A new cooling system and re-designed fuel injectors finish the modifications and hopefully create a high level of reliability.
0 to 100km/h (62mph) only takes 4.5 seconds which can be achieved both with the standard six-speed automatic gearbox or G-Power's optional gearbox (for more details contact G-Power through their website).
As with the X6M and X5M packages, G-Power offers a range of interchangable accessories for the interior ranging from steering wheels to carbon fiber interior parts.