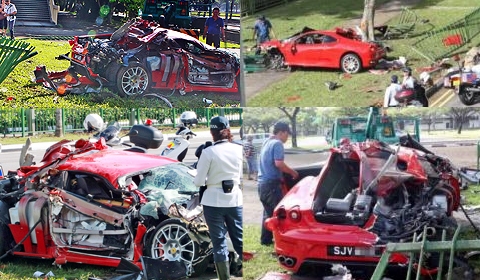 Car crashes are piling up this week! This time it is a Ferrari 430. The 'prancing horse' was wrecked after hitting a guardrail and then a tree, along Nicoll Highway, Singapore at about 7am on Saturday.
The driver, however, walked away from the crash almost unharmed. The Singapore Civil Defence Force (SCDF) spokesman said he had cuts on his arms and forehead. The Sunday Times visited the driver, Mr Lim Chai Meng, 36, at the Singapore General Hospital on Saturday, but he didn't have any comments regarding the accident.
Local netizens are wondering if it was a rented prancing horse or his own, it's becoming a trend to rent a supercar for about 2-4 thousand a day or a weekend in the Asian country. Based on the plates its about a couple months old. The road he was on is not at all dangerous or with blind spots or hard corners. The time he was on it too would not have much vehicles on it nor is Singapore known for bad visibility.
Thanks to Bryne Leong for the tip!