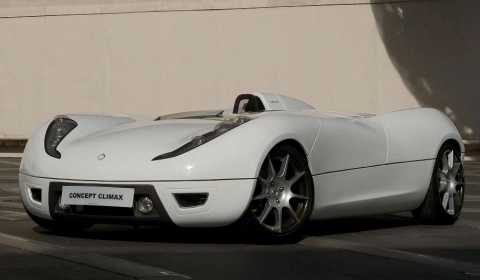 A new British manufacturer called Climax Cars has unveiled their production plans for a rear-drive street-regel racer. The vehicle will be limited to only 200 units and is set to rival the Ariel Atom V8 and Caparo T1. The 'standard' Climax is powered by a Ford Racing 4.6-litre V8, which produces 345bhp and 305lb.ft. The supercharged version produces 415bhp. Both use a six-speed Graziano GT ME1 gearbox.
The first thing you notice is the absence of a roof and a window, but also the sleek bodywork with frog-eye styled front headlight units. The speedster-style relates to the McLaren-Mercedes SLR Stirling Moss which also has a small wind-deflecting windscreen.
Simon Long and Marcus Rayner designed the unique car and kept the weight down to just 907kg. They achieved it by using a chassis and bodywork of aluminium. The power-to-weight ratio is a whopping 380bhp per tonne, more than many supercars around. In case of the supercharged model it is even 458bhp per tonne.
Suspension is double wishbone all round and adjustable for both road and track set-ups. The option list includes ceramic brakes, full race harnesses, and sequential and semi-automatic gearboxes.
Price? The Sports Racer prices start at £92,000 (€103,700 or $148,000). In comparison the Ariel Atom V8 costs almost £30,000 (€34,000 or $48,500) more. The Caparo T1 costs even more, at around £165,000 (€186,000 or $266,600).
[Via Autocar]