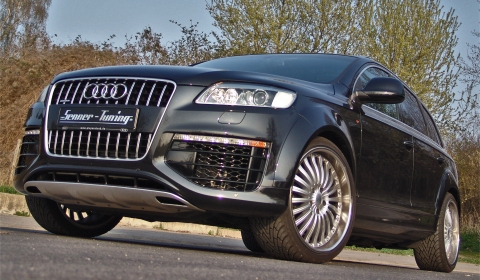 After the special treatment for the Audi R8 introduced about two weeks ago, Senner Tuning unveiled a new program for the Audi Q7 today. The package includes an engine performance upgrade of the 4,2 V8 petrol engine up to 374 horsepower and a maximum torque of 470Nm. A new exhaust system using stock tailpipes gives the vehicle a W12 soundtrack.
A new set of 22-inch RS-silver rims with Goodyear tires sizing 295/30-22 is outfitted underneath the SUV. The user has the option for an electronic suspension system lowering the vehicle up to 40mm.
Furthermore, there aren't any changes with respect to the exterior or interior. The exterior aerodynamic package – shown on the pictures below – is also used on the stock Audi Q7 W12 TDi and converted to the SUV on display.