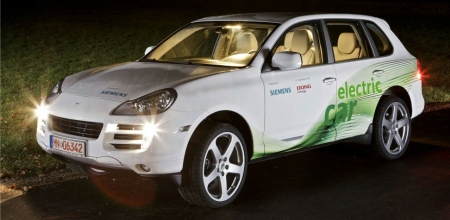 RUF has introduced their second electric vehicle, the Stormster. The SUV is the second member to the eRUF family and follows after the first electric sports car – Greenster – introduced at the Geneva Motor Show 2009.
The Stormster is the first electrically driven SUV based on the Porsche Cayenne. It is driven by a Siemens electric motor, with 270kW (367bhp) as in the eRUF sports car. The total weight is 2,670kg which makes it capable of reaching 100km/h in only 10 seconds. The top speed is 150km/h. The range of the electric SUV is 200km at one charge.
The lithium ion accumulators are supplied by Li-Tec Battery GmbH. The battery cells are especially designed for the automobile industry and use a ceramic storage technology. Hankook developed the winter tires which are fitted to RUF classic 5 spoke lightweight wheels. Tires have the size 295/30 R 22.
The Stormster will have its first public debut during the European Climate Change Conference in Copenhagen, Denmark from December 7th to 18th.