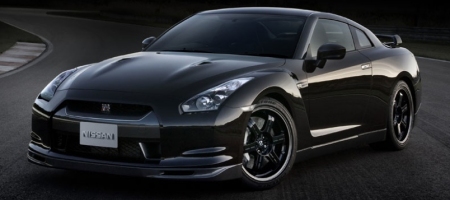 Nissan has confirmed 40 examples of the GT-R SpecV will be sold in Europe reflecting that 2009 is the 40th anniversary of the launch of the first Nissan to wear the GT-R badge. Until 22 January 2010 orders are being taken at Nissan High Performance Centres across Europe.
The SpecV is developed as the ultimate iteration of the GT-R. The changes are based around the SpecV's ability to brake later and harder, corner faster and accelerate sooner. All of the product enhancements that were recently announced for the standard MY10 GT-R are implemented in the European SpecV.
The maximum horsepower output remains unchanged, but the engine performance is enhanced with a new high gear boost control device. It briefly increases boost of the twin turbochargers for greater torque. Braking and cornering performance is improved by a carbon ceramic brake system, revised springs and fixed-rate dampers. Other modification is a titanium exhaust system.
The SpecV is also equipped with lightweight, racing-style forged aluminium wheels developed by Nissan Motorsports International (NISMO). The SpecV's exterior also features a carbon fibre rear spoiler, a carbon fibre grille and carbon fibre brake ducts. All of these changes amount to a weight saving of 60kg. In addition to a revised paint colour line-up the model is available in optional Ultimate Black Opal. Ultimate Metal Silver and Titanium are not available anymore.
Inside, the SpecV is offered without two rear seats – normal models have four seats in total. The two-seater has bespoke Recaro carbon fibre bucket seats trimmed in Black leather. Carbon fibre is also used for the surround of the rear Bose speakers, instrument panel and other trim areas.
GT-R SpecV will be only available through one Nissan High Performance Centre in the UK – Middlehurst Motorsport GT-R, St Helens, Merseyside at a price of £124,900 or €135,000 including taxes.