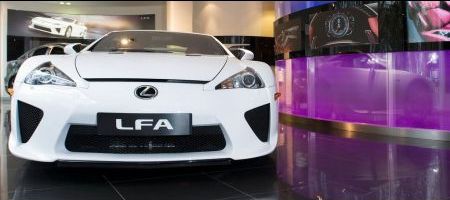 Lexus recently announced that the LFA will be available in Europe via there London Park Lane showroom. It'll be the only place in Europe that you can buy a LFA. In fact it seems that it'll be the only place in the world where you can buy an LFA! Lexus have clarified that they will lease cars only in North America and Canada.
The London showroom will start taking orders in April 2010 with cars reaching owners between 2011 and 2013. Owners will have be able to spec their new supercar in the new VIP selection room. There's also an LFA on display for owners to draw inspiration.
It's thought that only a small proportion of LFA's will come to the UK, as a benchmark, North America has been promised 150 of the 500 cars.
As for the decision only to lease the cars in North America, Lexus have offered no explanation.