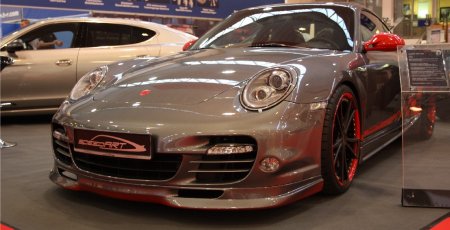 SpeedArt presented it's take on the new Porsche 997 Turbo facelift, the SpeedArt BTR II 580 at the Essen Motor Show today. Presented to potential clients a week ago SpeedArt worked hard to get the car ready in time for the Essen Motor Show.
With the SpeedArt BTR II 580 it's all in the name, the Bi-Turbo Racer based on the 997 Turbo Gen II delivers 580hp, compared to 500hp for the standard 997 Turbo facelift. Next to the performance upgrades the SpeedArt BTR II 580 has 20 inch forged wheels, a dual-tone aerokit with a range of spoilers & sideskirts, a diffusor and a custom interior.
The full specifications of the SpeedArt BTR II 580 will be released next week. Estimate price for the BTR II 580 is around 200.000 euro.