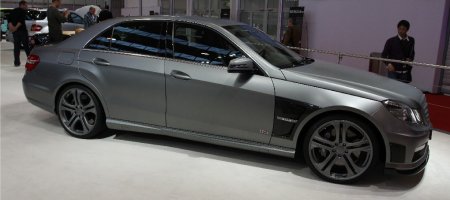 The biggest release at the Essen Motor Show this year is account to Brabus with their new Mercedes E63 AMG based Brabus B63 S. With 555hp this beast sprints to 100km/h in 4.3 seconds and if you keep your foot down it eventually tops out at 320km/h.
The Brabus B63 S package is available for both the E-Sedan and E-wagon 63 AMG models. Brabus offers exclusive accessories such as sporty aerodynamic components, wheels up to 20 inch and custom and virtually unlimited interior options, from custom stitching to entertainment systems.
The 6.3-liter V8 is equipped with the BRABUS B63 S performance kit that consists of two sport air filters, free-flow metal catalysts and redesigned engine electronics. To transfer the increased power to the road with as little slip as possible brabus offers a limited-slip differential with a locking rate of 40 percent on the Brabus B63 S.
Last but not least increasing aerodynamic is essential for optimal performance of the E63 AMG sedan and wagon. The Brabus B63 S aerodynamics package is developed in the wind tunnel and are made of carbon fiber. Both the sedan and the wagon can be equipped with a front spoiler. The rear spoiler and diffuser however are exclusively available for the sedan version of the Brabus B63 S. All components come with their unique Brabus Tuning warranty that covers three years up to 100.000km.