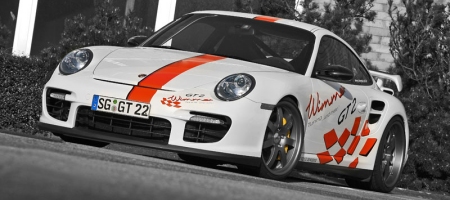 The team of Thorsten Wimmer is known for its first Porsche GT2 tuning package. Today they unveil an update, making its official debut at the Essen Motorshow 2009. Wimmer RS created the GT2 Speed program delivering a performance upgrade of 827hp at 7,400rpm and 948Nm of torque.
The tuner from Solingen created a kit with a power-to-weight-ratio of 1.84 kg/hp and a v-max of 378km/h. Of course, one who has ever had an opportunity to drive a Porsche GT2 will hardly complain about the lack of engine performance, but Wimmer still found some room for improvement. The acceleration of the GT2 Speed Bi-Turbo is 3.38 seconds from 0 to 100km/h. Within 8.54 seconds the Porsche reaches more than double the speed. The speed of 300km/h is reached within 20.2 seconds.
The Wimmer GT2 Speed Bi-Turbo power package includes modifications of the engine block, pistons, piston rods, injection nozzles, sports camshafts, inlet system, throttle valve and the installation of an intercooler. Wimmer even uses new engine software. The most important subject are two high performance turbochargers. Furthermore, Wimmer states that the sport exhaust system together with the welded exhaust manifold and two exhausts provide a furious roaring and whooshing.
Sport Maxx GT tyres in dimensions of 235/30-20 or 325/25-20 mounted on Sportec rims provide for stability at high speed, at above 300 km/h. The appearence of the Porsche GT2 has been optimized with carbon exterior rear-view mirrors and a carbon rear spoiler lip. The serial chassis has been furthermore improved by H&R sport springs.
The car makes its official debut at the Essen Motorshow. The price for the new car, including retrofitting, is about 281,000.00 euros!