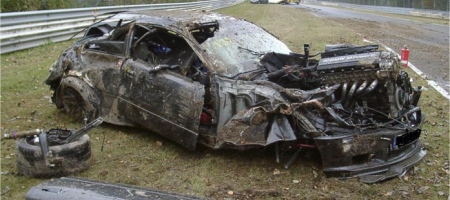 We have seen some car crashes over the past few months, but this one definitely gets you thinking and puts you with both feet on the ground. The BMW E36 M3 crashed during a trackday at the Nurburgring's Nordschleife track, also known as the 'Green Hell'.
The M3 was driven by an experienced driver. The cause of this accident was due to traffic. The M3 entered a blind curve where it hit a Mini Cooper driving a lower pace. After the impact the M3 got fire. In the end the vehicle was completely a total loss. The driver survived due to the build-in roll cage.
Check also the following video footage of the dangerous situation after the crash.
[Via Topspeed]