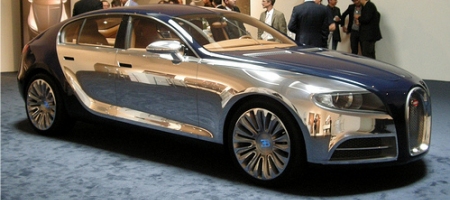 The guys from L4P are the first to show some real live shots of the brand new four-door Bugatti 16C Galibier. The pictures were made by jmk911 – a member of the forum – while unveiling the Galibier concept at the Ace Gallery, LA last Thursday.
Bugatti and Parmigiani where hosting the event, so he had the chance to see the vehicle in person and sit in all four seats. He stated:
It was an impressive automobile. They asked everyone not to take photos, so I hung to the end and asked nicely. They allowed me to take a few, but I could not get detailed shots of some of the killer features of the car. I can say that it is really nice in person. I am not a huge fan of the rear as I am sure some would agree.
The Bugatti manager spent time with many of the guests and asked for feedback. Besides discussing the Galibier, the subject of a likely "more economical" sports car in line below the Veyron was discussed. The response from the Bugatti personnel suggested something. We will keep you informed.