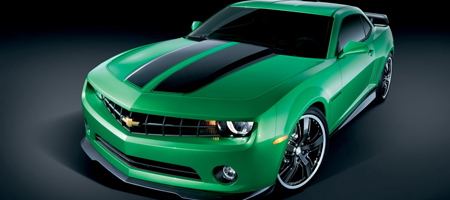 Yes, you read the title correct, Chevrolet have just taken the wraps off of five new concepts. It seems as though the US company have cottoned on to the Camaro's marketability and have released a few concepts to raise their brand image. All five of the new cars will be on show at the SEMA motorshow this week.
Visually all five cars appear to be different. There's a twin-turbocharged version of the Camaro's 3.6 liter, direct-injection V6, producing 425hp which Chevrolet have named after Jay Leno. A concept named 'synergy' thats green and features an aerodynamics kit and optics.
The Chroma is Summer White, an SS-based concept and features the same power upgrades as the Jay Leno. The Dusk that comes in Berlin Blue and finally (with no pictures included) the Graphics, highlighting six proposed accessory graphics packages. By online voting the public can choose one or more of the packages that should go into production.
[Via AutoBlog.nl]