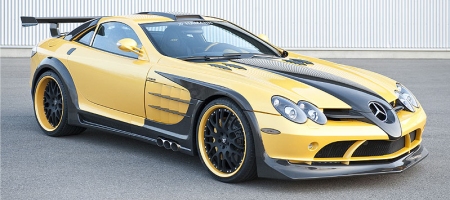 The red and white version of the Hamann Volcano are familiar to us and surely one of a kind. The tuned McLaren-Mercedes SLR got a third member; a yellow version. Apart from the obvious different color the output and setup remains unchanged with respect to its brothers.
The Hamann Volcano has a total output of 700hp from the original SLR V8, good enough for a sprint from zero to 100km/h in 3,6 seconds and a topspeed of 348km/h. A 'Volcano' out-performs McLaren-Mercedes's own 722 edition of the SLR.
Need more information on the Volcano please visit this website.