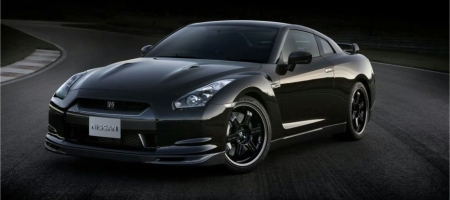 Nissan has announced the release of their latest addition to the successful GT-R series. The updated 2010 GT-R includes a revised navigation system, recalibrated suspension settings and an improved-flow catalyst system. Unfortunately, it will first go on sale in Japan on December 7th. Sales in other global markets start at beginning of next spring.
The latest improvements include a new HDD-based Carwings navigation system with enhanced entertainment functions. A USB port with iPod connectivity allowing you to enjoy your favorite music in the car. In addition, the GT-R's suspension has been retuned to offer enhanced and premium quality ride comfort. The rear diffusers with cooling ducts, previously available only on the GT-R SpecV, have been expanded to non-SpecV models, improving cooling performance around the rear floor area.
The exclusive Nissan GT-R Spec-V models receive revised rear shock absorber settings. The Spec-V also comes with Dunlop tires. The previously standard Bridgestone tires are available as a factory-installed option.
Finally, both the Nissan GT-R and GT-R Spec-V achieve improved low- and mid-range engine response. A newly adopted hexagonal meshed catalyst cells reduce ventilation/airflow resistance.